Faced with a lock gate failing to operate, Whitehaven Harbour Commissioners immediately reached out to Marina Projects Ltd. With a wealth of knowledge and experience in the operation, inspection and maintenance of lock gates, Marina Projects were the natural first point of contact when the lock gates became inoperable at Whitehaven Harbour in November 2020.
Specialist investigations began
Marina Projects Special Projects team attended site, undertook investigations, making an assessment of the cause of the issue and appointed and coordinated specialist divers, hydraulic engineers and heavy lifting crane operators to attend site.
Through careful management the 30m lock was de-watered within 7 hours of the divers entering the water to undertake their first sweep of the stop log recess.
Once the Operations team were able to enter the lock structures and carryout their investigations, they were able assess the extent of the damage, establish a program of works and set out about managing their execution over the ensuing eight-day period. This saw the 55 ton, 12-meter-high south outer lock gate carefully raised and levelled to enable the removal of the entire hinge pin, bearings, bushes and retaining plates.
A full Works Report
Marina Projects appointed engineers to undertake works to the hinge bracket, gate arm, bearings, bushes and hinge pin before Marina Projects personnel re-assembled the components and re-swung the gate.
Finally, the stop logs were removed and the new lock gate bearing commissioned along with the associated hydraulic systems. A full works report and preventative measures were also presented to the client and put in place to ensure a repeat incident could not occur.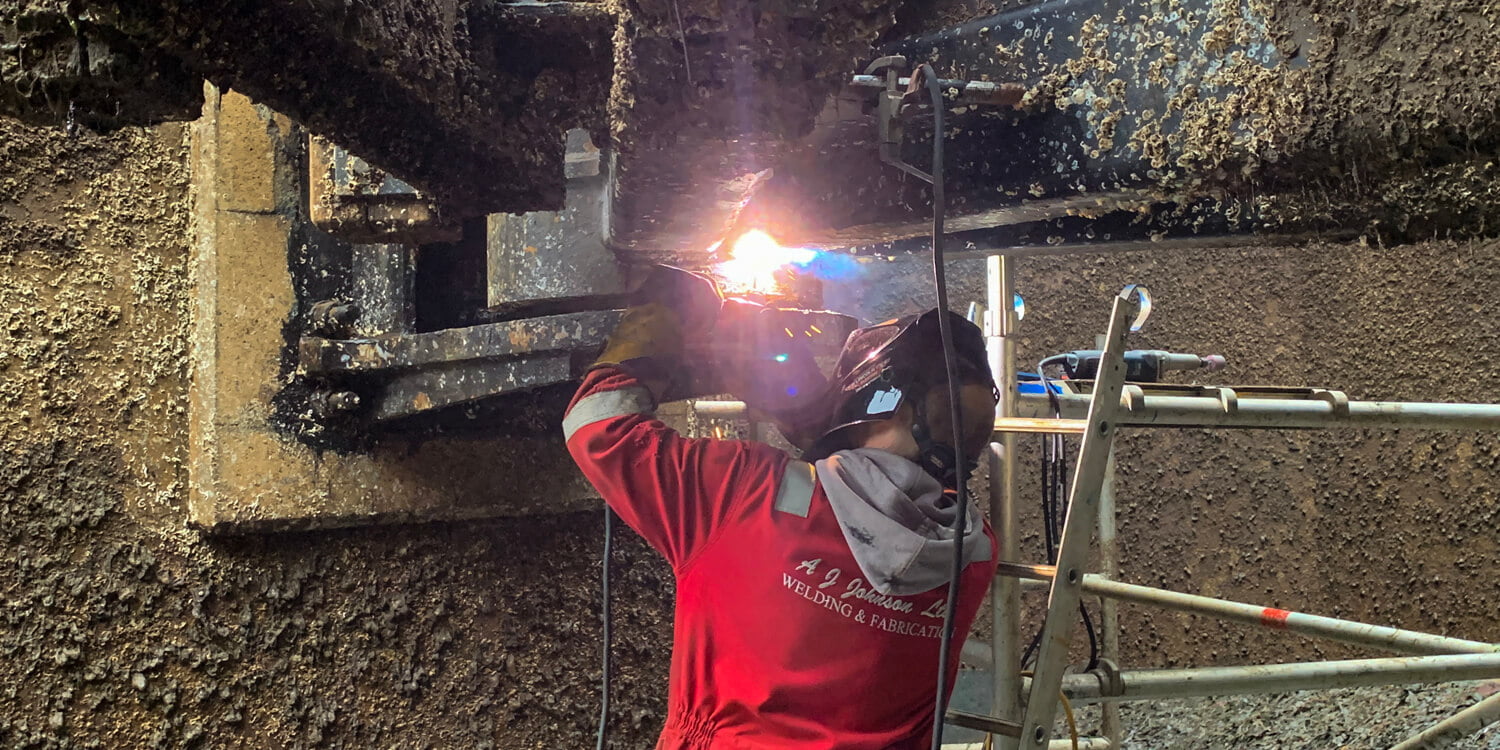 Project success
Commenting on the project, Operations Director Dan McKiernan who attended the works stated, "When we received the initial call, we talked the onsite engineers through the systems and possible causes. It is a process of elimination, there are a great number of systems and procedures to check systematically to pin-point the cause. Through years of working on lock gates, we were able to correctly identify the problem and piece together a scope of works that minimized the impacts on marina operations whilst ensuring that the cause and possible ramifications of the problem were fully investigated, and a complete package of works undertaken."
Mike Ward Managing Director of Marina Projects added, "It is projects such as this that are a testament to the depth of practical experience that our professional team apply to each and every project that we undertake. We have been undertaking condition surveys, inspections as well as maintenance and replacement programs for operational assets such as marina lock gates, lifting bridges and water replenishment facilities across international projects. It was a natural progression for our team to diversify into project managing this type of specialist works and I am delighted the expertise was put to such good effect.