"Expertise from start to finish of our waterfront developments"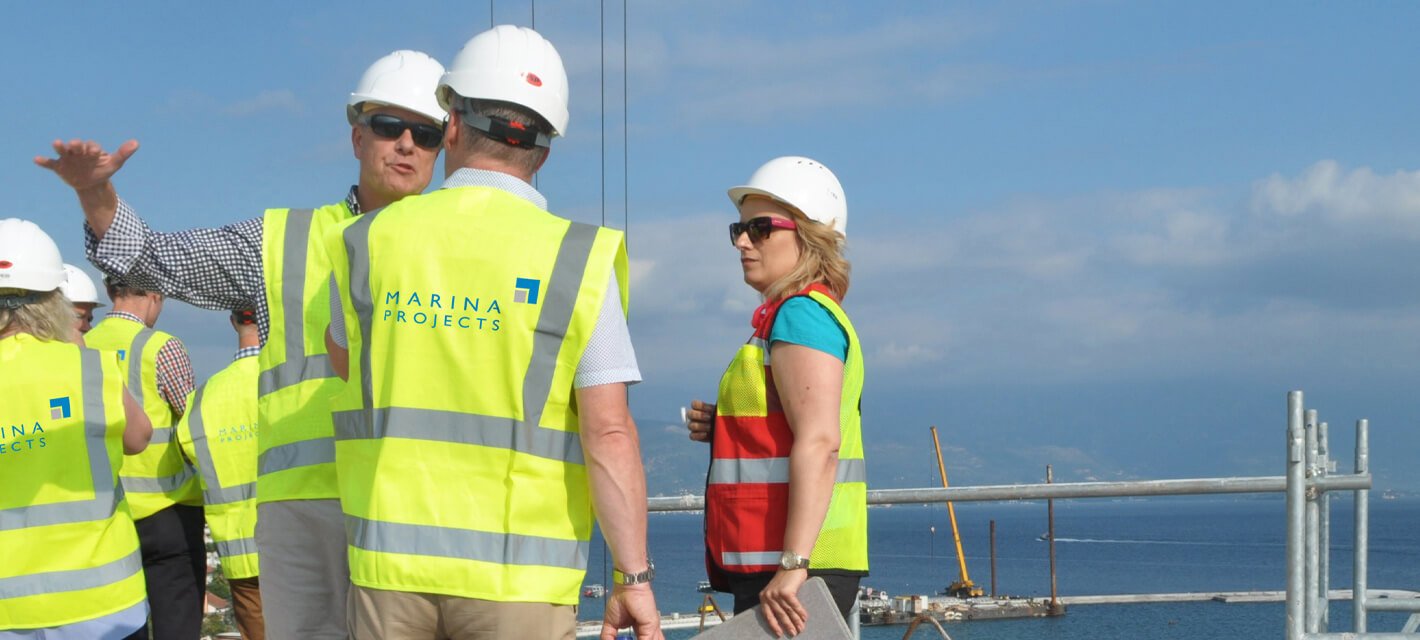 Marina Projects focuses on completing projects on time and on budget. Our experienced tender and project management team oversee all aspects of waterfront development, from advising on site and survey requirements, product selection to the appointment and co-ordination of the project team.
How our tender and project management service works
We specialise in the procurement and management of marina works, including dredging contracts, pontoon installations, marina facilities and boatyard services; at all times taking account of environmental and Health and Safety issues. Liaising with Local Authorities, Government Agencies and licensing bodies, we can obtain the required consents or provide supporting guidance.
The procurement process
Marina Projects has the experience to undertake a variety of procurement options, whether they be competitive tendering processes or negotiated contracts, we have a team that has proven experience with achieving best value for our clients, whilst maintaining high standards throughout.
We offer a full procurement and project management service which typically starts by developing the design basis for a marina to ensure that the scheme is delivered in accordance with the client's vision and aspiration. This includes resolving all design interfaces, design parameters and outline specifications at an early stage in the process.
With a completed design established, Marina Projects will provide the necessary advice and guidance on the procurement strategy that is most appropriate for the scheme, along with providing advice on the type of tender, the tender assessment criteria and the form of contract to be adopted for the construction of the development.
An important aspect to any procurement exercise is the technical information that is issued to tendering parties and Marina Projects has extensive experience with the preparation of associated documentation to include Employer's Requirements, contract data, site information, detailed performance specifications, pricing documents etc.
Construction and Project Management
Marina Projects can manage the complete installation of marina equipment and infrastructure, from order, delivery, and installation to ensure the scheme is delivered in accordance with budget and programme expectations. A key component to this stage is the contract administration and site supervision which can be tailored to the requirements of any project.
Whether the project is a new marina or replacement of an existing facility, we understand need to deliver in an efficient and coordinated manner to ensure any impacts on operations are appropriately managed and mitigated. In this regard, project sequencing and programme management are an important aspect to the construction of any marina project.
Other Marina Project Management Services
We also focus on the following issues that are specific to the project management of marina and waterfront related projects.
Dredging Contracts
As part of our project management and tendering service, we have the necessary expertise to provide and manage dredge contracts, either as part of a wider marina development, or as an ongoing maintenance dredge programme and service agreement.
We have extensive experience in obtaining and managing marine licences that are specific to dredging activities that deal with complex issues relating such as habitat monitoring, sediment sampling, quantity analysis and disposal.
As a marine civil works activity, there are a wide range of risks that need to be carefully considered and appropriately managed throughout the contract administration period to ensure the dredge campaign is completed in accordance with scope and budget.
Ancillary Marina Facilities
Our tender and project management services can extend to any area of your marina or waterfront development, from the procurement and construction of slipways, hoist docks, to fuelling berths and vessel wash-down facilities. Marina Projects can provide guidance and advice on planning related matters to ensure the optimum scheme is delivered and meets the needs of your business.
We can also support and assist with the selection, specification and procurement of boatyard equipment, e.g. hoists, boat-movers, cradles etc. with the requirements suited to the site conditions and local marketplace.
Health, Safety and Risks
Our project management service also includes important aspects such as health and safety, risk management, environmental considerations and liaising and dealing with local authorities and government bodies. We manage all the risks and can help obtain the necessary licences and consents on your behalf or advise you throughout the process.
In short, we offer a full project management service that allows our clients to focus on the rest of their business, critical in reconfiguration projects where works must be planned around an existing operation. If you would like more details on our project management services, please call us on +44 (0)23 9252 6688 or use the Contact Us button.