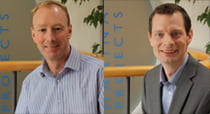 A greater focus on the group consultancy activities has led to the appointment of Phil Dunn and Dan McKiernan as Main Board Directors of Marina Projects Ltd. The UK based independent marina consultancy business has enjoyed consistent growth since 2010 with an increasing workload arising from marina and waterfront development projects overseas.
At the same time Mike Ward moves from Project Director to Managing Director. Commenting on the changes Geoff Phillips noted;
"a number of factors have influenced the restructure including the growth of overseas markets, the opening of a branch office in Hong Kong and the continued expansion of the professional team at all levels. This is another milestone in the life of Marina Projects which underpins the company's values and recognises the tremendous contribution that Phil and Dan make to the business."
Phil Dunn takes up the position of Technical Director with particular responsibility for the delivery of consultancy services. Dan McKiernan is promoted to Projects Director and will amongst other things be responsible for coordinating the activities of the professional team.  The operational activities across the group will remain under the control of Mark Bowden, Operations Director.