Acting as agents for Windermere Aquatic, Marina Projects has secured a vital Planning Permission for the extension and reconfiguration of Windermere Quays Marina at Bowness on Lake Windermere. The extension will increase the number of berths on the water to 260 with an increased average berth size to suit market demand.
Marina Projects Director Mike Ward comments:
"This is a prestige project for us and shows the diversity of projects we deal with. This marina is a vital facility supporting tourism in the lakes and the 80 extra marina berths it will provide and the mix of berth sizes provided is very important."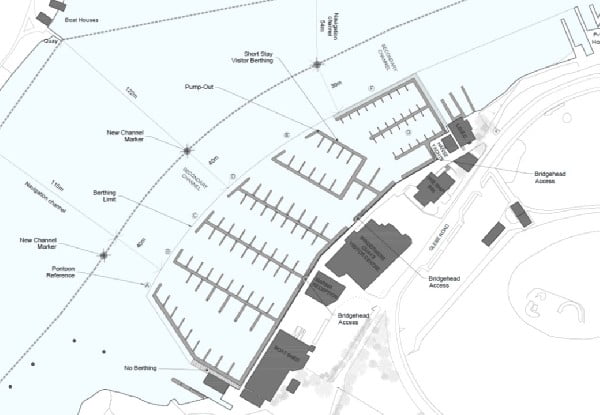 The Windermere Aquatic site at Bowness is recognised as providing a strategic development opportunity, to create a World-class visitor attraction. Lake Windermere is England's largest natural lake and is a key visitor destination within the Lake District National Park.
Whilst good policy support exists for the development, the situation was complicated by the sensitive setting combined with a policy requirement to ensure that navigational safety was not compromised for the full range of lake users. This demanded that a detailed assessment and supporting case was prepared.
Dan McKiernan, Senior Project Manager noted;
"The development is in the narrowest part of the Lake, with an extensive range of users from commercial passenger vessels through to kayaks, dinghies and even swimmers. Our assessment had to take account of the range of competencies from professional skippers, experienced yachtsman and also novice hire boat users as well as the activities of the disabled facility at the adjacent Blackwell Sailing Club.  Our approach was to undertake a detailed Navigation Risk Assessment of the existing facility and use the results to inform the design process. The assessment became the cornerstone to our stakeholder engagement and the Planning application."
Grahame Armer, Managing Director of Windermere Aquatic Ltd said:
"Marina Projects immediately understood my requirements and the challenges we have been facing including the need to engage with local objectors. In response Marina Projects prepared a practical and logical plan and then set about delivering it.  Securing this permission has been a challenge.

"Before appointing Marina Projects I had to withdraw an earlier application in the face of fierce local opposition," he commented. "I was delighted to secure the permission with a unanimous vote of the Development Control Committee. The result and particularly the overwhelming nature of the Committee support is a testament to the structured, logical and clearly communicated plan provided by Marina Projects Ltd. I look forward to working with them further to deliver this and other projects."